Zedmed Cloud
Talk to us about a cloud based solution for your practice
Coming Soon
Zedmed Cloud
---
Access Zedmed anywhere, anytime.
Built on a per-user subscription, Zedmed Cloud is a Zedmed as a Service (ZaaS) solution that caters to your entire practice. With servers hosted in a secure cloud ecosystem, you can access all of Zedmed anywhere, at any time. with none of the compromises that other SaaS products bring.
Zedmed Cloud
Seamless migration from most other platforms
Access Zedmed anywhere, anytime
Eliminate expensive IT costs
Enhanced security and data protection
Zedmed Cloud delivers the same feature rich software you need, backed by the added convenience of a cloud based database. Give your patients the best level of healthcare possible, with the flexibility of a secure environment managed by Zedmed.
Benefits
Power, speed and functionality of the Zedmed application without the need for hosting on-premise
Flexibility to access the product anytime, anywhere and work remotely via an internet connection
Remove expensive IT infrastructure and costs
Eliminate the time and cost of IT staff or external contractors to repair and troubleshoot server issues
No risk of potential theft or damage to the server
No environmental dangers that could cause damage to the hardware
Easy transition and ability to convert practice data from most major competitors
Features
Data is hosted and secured within ISO27001 data centres
All product updates, backups, disaster recovery and general maintenance is performed by Zedmed, including MIMS and ICPC updates
Cloud hosting provides enhanced security and data protection
Zedmed Cloud – customer journey
Zedmed Cloud is a Software as a Service (SaaS) solution that delivers the efficiencies and savings of cloud technology to our customers. The expense and expertise needed to maintain your server become Zedmed's responsibility, allowing your practice to focus on healthcare delivery.
What is Zedmed Cloud?
In the On-Premise model, workstations access a local server where your database is stored. With cloud delivery, your database resides in the cloud inside its own secure container. Your workstations access the database using practice-specific web services that also run in the cloud. For this reason, when describing cloud delivery, we talk about your database rather than your server.
Cloud technology uses secure facilities with layers of redundancy so that no single failure can cause interruptions or risk your data. Zedmed has partnered with Servers Australia who operate ISO 27001 certified data centres in Australia, within Australia's legal framework. They provide the cloud hosting that Zedmed databases run on, and Zedmed itself manages those databases
---
Migrating to Zedmed Cloud
If you currently run Zedmed on your own local server, moving to Zedmed Cloud is simple and seamless. Preparations are performed by Zedmed with no interruption to your operations, and the switchover happens at an agreed time and, for most practices, takes less than an hour. If you have a non-Zedmed environment, we'll migrate you to Zedmed Cloud as part of our full-service solution.
After the switchover, your staff and doctors can continue working as normal. They will not see any difference in the software or its functionality, and no training is required.
There is no loss of functionality
There is nothing new to learn
The switchover can take less than an hour.
The Zedmed Cloud difference
Zedmed Cloud is a very different model from competitors web based solutions that are limited to a browsers capabilities in speed and functionality. Zedmed Cloud uses the same front end interface practices as Zedmed On-Premise, with the back-end handled by Cloud Hosting saving you IT management time & costs.
Financial
advantage
You don't have to pay for staff or a third parties to maintain your server.
You don't have to purchase or upgrade your server or server software.
Cloud storage is scalable, and you will never need to pay for additional capacity.
Operational
advantage
You don't have to update fees files, MIMs or maintain third-party integrations.
You don't have to manage or store your own backups.
Your data has better physical and environmental protection than any practice can provide.
Technical
advantage
Cloud technology provides a reliable, fast and very secure connection to your database.
Cloud's layered security provides superior protection against viruses and ransomware.
Cloud backups are industry best-practice and use specialised storage and replicated snapshots.
Accessibility
advantage
You can access Zedmed Cloud from any location across the internet.
If you don't have a Zedmed client, one can be quickly deployed to any Windows computer.
Provides a solution for critical situations where a staff member or doctor is not on site.
We've looked at Zedmed's On-Premise and Cloud delivery options and explained the advantages of Zedmed Cloud. Now we'll look at what Zedmed Cloud delivers and how.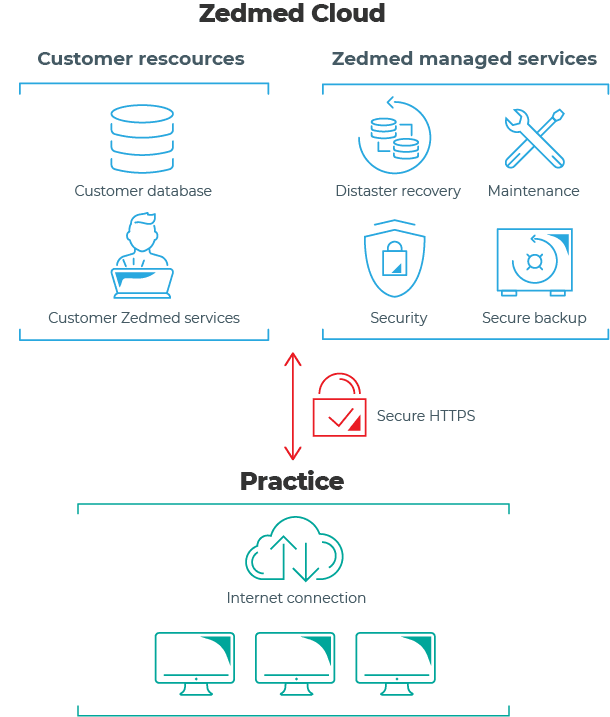 Make An Enquiry
Zedmed Cloud delivers the same feature rich software you need, with the flexibility of a secure cloud based database environment managed by Zedmed.
Zedmed your way
Enjoy the same incredible feature packed software and the same amazing service delivered On-Premise or via the Cloud
Zedmed Cloud FAQs
Is there a difference in functionality between Zedmed Cloud and On-Premise delivery?
No. Zedmed Cloud has the exact same modules and features as On-Premise. Nothing has been removed or changed in any way. There is no difference in the user experience.
Are there additional costs for Zedmed Cloud?
No. The per user subscription includes everything. Our SaaS delivery is factored into the price, and you will never incur additional charges for data and bandwidth usage.
Where is my data stored?
It is stored in ISO 21007 certified data centres in Sydney and Melbourne.
How do third-party integrations work?
All existing Zedmed third-party integrations are supported by Zedmed Cloud and managed for you by Zedmed. You will however need to use Zedmed's Online Appointments system.
What would happen to my data if I stopped using Zedmed Cloud?
All Zedmed customers retain ownership of their data, and you will receive a full copy of your data if you stop using Zedmed Cloud. These assurances are all included in our Zedmed Cloud agreement.
Does Zedmed Cloud comply with privacy and security legislation across all states?
Yes. Zedmed Cloud data centres are in Australia and ISO27001 certified. They are compliant with data storage and privacy legislation and within the governance of Australian authorities.
Will we need to learn anything new?
No. Zedmed Cloud uses the same client as Zedmed On-Premise. How you work will not change.
Is my data segregated?
Yes. Every database in the Zedmed Cloud is segregated in its own cloud container.
How safe is my data in the cloud?
Zedmed Cloud delivers a level of physical and electronic security that's beyond what a practice can provide. 2FA, encryption, firewall and web proxy technologies protect your connections and data.
Can the cloud provider claim ownership of my data?
No. The cloud provider only supplies cloud storage. You retain full ownership of your data.
Is my data backed up?
Yes. All databases are replicated to another data centre every 10 minutes. The databases are also backed up to a SAN every night, and those backups are kept for 7 years.
Discover Zedmed's Feature Rich Cloud Based Software